An investment in Paraguay offers very good returns in 2023. Especially real estate in the area of the capital Asuncion promises stable rental income and high appreciation. Particularly interesting are currently the offers of the company CorAr, which offers with "TUYO Garant" a top product for investors.
Read more
CorAr – a success story from Argentina and Paraguay
The company CorAr was founded in 2003 in Cordoba, Argentina, and has been operating in Paraguay since 2013.
In Asuncion, numerous residential and investment properties have already been successfully completed in recent years. These include CorAr Tower Las Mercedes, Fenix Towers I, II, III and IV, Chateau Tower and others. Currently, another 9 such projects are under construction, with Elysium Tower being the most impressive structure with 29 floors and completion later this year.
These condominiums are well suited for owner occupancy or as rental properties. With prices starting at US 28,700 in advance for a 31 m² apartment, one can expect a net rental income of around USD 300 per month after completion. If you add in the appreciation, this is really a very good investment in Paraguay.
TUYO – a project for the people
With the TUYO project, CorAr now also offers modern housing quality for the lower middle class of Paraguay. Especially in the greater Asuncion area, the first homes are being built here for the mostly young families. Due to state-subsidized loans, the interest rate of 7.9% is very favorable for the families and thus significantly lower in the monthly burden than a comparable rental property.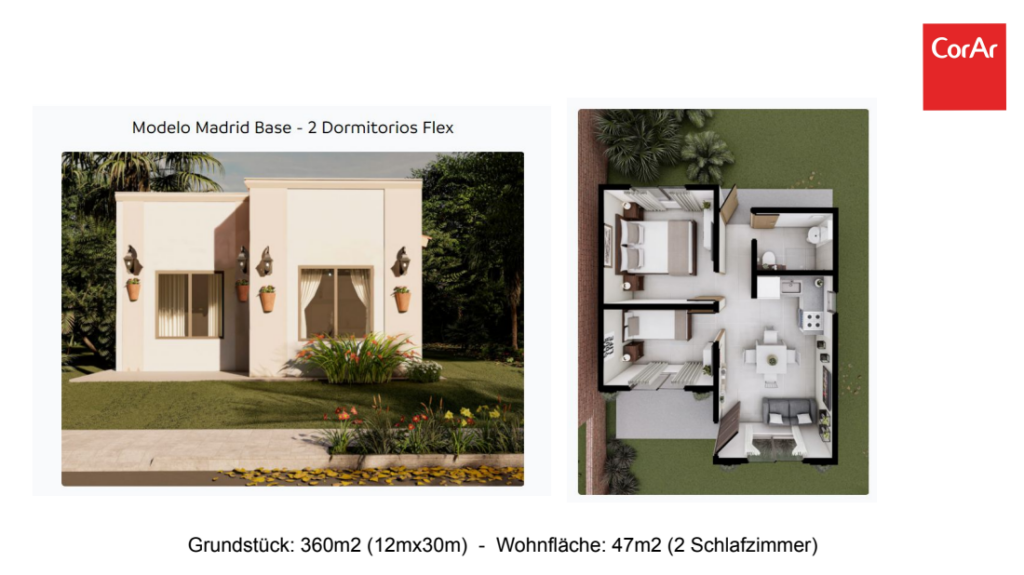 The basic model "Madrid Flex" with about 40m² living space and 360m² plot is offered for USD 36,000. Where in the world can you find such a good offer in the metropolitan area of a capital city?
TUYO as an investment in Paraguay with guarantee
Particularly interesting for investors is the project "TUYO" in connection with the program "Garant". This investment in Paraguay runs for 24 months. The investor receives an annual fixed return of up to 13% (depending on the amount of the investment). At the end of the 24 months, the real estate is sold and the investor receives an additional guaranteed increase in value of at least 17%!
In the worst case one receives for this investment in Paraguay thus 6% fixed interest (with investments under USD 100,000) per year PLUS 17% guaranteed increase in value after 2 years with high security by the real estate possession.
In the good case, the investor receives 13% fixed interest (for investments of USD 500,000 or more) per year PLUS ~28% appreciation after 2 years with high security through real estate ownership.
Population growth is the foundation for this boom
The basis for these investments is the population development in Paraguay. Paraguay has a very young population with an average age of 27. This new generation wants to live primarily in the area of the capital Asuncion, where there are sufficient jobs with good pay. Any family with an income of at least double the minimum wage (Gs 2,680,000/Eur 350) per month can apply for one of these subsidized housing loans. The need and demand for TUYO houses in Paraguay is correspondingly high.
For investors this is a great opportunity to do something positive for the people in Paraguay and at the same time to achieve a good return in a country with a future. We will be happy to answer your questions via the contact form or directly by email to: info@paraguayprofis.com.